Alvah Crocker and the Early Years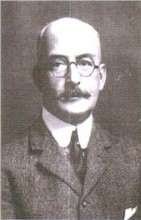 Legend has it that Charlotte Crocker asked her husband, Alvah, to build a field where their son and other children could play safely.  That simple request planted the seed that would become Crocker Field.  Planning and design began in 1917.  Crocker Field has seen multiple generations of families participating in different out-of-door sports and contests, thus fulfilling the wishes of Mr. Crocker, expressed in a letter to the City of Fitchburg dated January 1, 1917: "In my opinion the public schools of the city require an adequate field in which the different out-of-door sports and contests, which count so much in the physical and moral development of our boys, can be held."  Alvah Crocker hired the Olmsted Brothers Landscaping and Design Firm of Brookline, MA to design his "field of dreams.".
The Olmsted Brothers
The Olmsted Brothers were the sons of Frederick Law Olmsted, who designed Central Park in New York, the Emerald Necklace in Boston and the landscape for the great Chicago World's Fair in 1893.  Crocker Field was modeled after Worcester Academy, reputed to be the "model preparatory school plant in this section of the country" and Soldier's Field at Harvard University, built in 1902-3 and claimed to be the largest poured concrete structure in the world at that time.
Storied Past
Through the years Crocker Field has been the place where memories were made.  1925 was a banner year.  In May, the Cincinnati Reds played a benefit game to raise funds for a memorial to their manager West Fitchburg's Pat Moran.  In July, Paavo Nurmi, who participated in 1920, 1924, and later 1928 Summer Olympics winning 9 Gold Medals and 3 Silver Medals, performed at Crocker Field. While touring Crocker Field, baseball legend, Babe Ruth asked Athletic Director Clarence Amiott, "What professional team plays here?" to which Mr. Amiott replied, "The Fitchburg High School teams." For many years the public schools held an annual field day, with each school marching onto the field proudly bearing their school's banner.
Microburst of 1989
In 1989 a Microburst hit Fitchburg, touching down right near Crocker Field. At the Upper Common on Main Street a church steeple was blown off the roof, crashing down onto a nearby car, killing its occupant. The devastating winds took their toll on the River Street side of Crocker Field, uprooting many beautiful trees that had stood on the grounds for decades.
Famous Visitors
A number of famous athletes have come to Crocker Field over the years. Here is a list of some of them.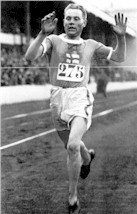 Paavo Nurmi
 ran at Crocker Field in 1925. He is the most decorated Olympic Track and Field athlete of our time with 12 medals in all; 9 gold and 3 silver.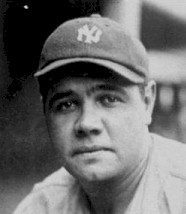 George Herman "The Babe
" Ruth once visited Crocker field and asked Clarence Amiott, then the Fitchburg High School Athletic Director, "What professional team plays here?", to which Mr. Amiott answered "The Fitchburg High School teams". You can read more about The Babe
 here
.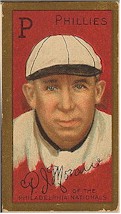 In May of 1925, the Cincinnati Reds played a benefit game to raise funds for a memorial to their manager West Fitchburg's 
Pat Moran
. Pat's baseball career included 14 years as a player and 9 years as a manager. He was the manager of the 1919 World Champions. His memorial stands today in West Fitchburg.
Recent History
On a beautiful fall evening in 1987, with the stands filled with spectators, the Fitchburg High School/Gardner High School rivalry was resumed under new lights.  At the end of the game a gentleman approached the late Bernie Welch, Principal of Fitchburg High School and asked, "Is it always like this?"  Welch replied, "Yes."  The gentleman responded, "Then preserve this stadium." In 2001 Crocker Field was the solemn gathering place for the community following the 9/11 tragedy to pay tribute to all those who lost their lives.  In 2007 Crocker Field provided a beautiful setting for a sunset concert, featuring American Idol contestant Ayla Brown and the Bellevue Cadillac band.  Crocker Field is a place where memories are made.
Crocker Field in Fitchburg is a part of the history of our community. Hundreds of young football, soccer, field hockey, lacrosse, baseball, and track and field athletes performed here and elements of their character have been forged here. It is also home to "The Rivalry" — the Fitchburg-Leominster football rivalry is 128 years old having begun in 1894, and the teams have met 140 times making it 6th most in the nation. The field was designed by the Olmsted Bros. of Brookline and it is therefore listed on the National Register of Historic Places.