Early Restoration Efforts
The first genuine effort to address the larger problem of structural integrity and maintenance of Crocker Field was started by Don Woods, a graduate of FHS, WWII Marine Corps veteran, and a volunteer track coach. Don loved what Crocker Field stood for, and he was devoted to preserving it for the student-athletes he loved and coached as well as for future generations.
Don was tenacious in his efforts to get support. He organized volunteers and classmates and raised $150,000 to repair cracking and deteriorated concrete in the open grandstands. Structural Engineer Lenny Laakso, now Crocker Field Restoration Committee Director, designed and inspected the repair work.
Crocker Field Brick Walkway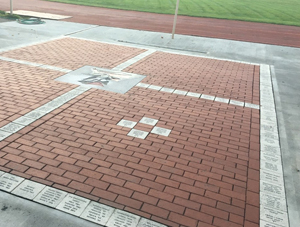 In 2018 the Crocker Field Restoration Committee was looking for a way to raise some funds to support its efforts in the restoration of Crocker Field. The committee came up with the idea of giving Fitchburg High alumni and other interested parties a way to support their efforts through the creation of the memorial brick walkway. The main entrance to Crocker Field on Circle Street was in dire need of repair and the committee decided to undertake the project to both upgrade the entrance and generate a revenue stream.
"Besides being a great way to raise money for our cause at Crocker Field, the finished project will be a beautiful upgrade to how our main entrance looks," CRFC Vice President Ray Cosenza said in an interview in 2018. "It will be the first thing people see when they enter Crocker Field."
"Anyone who has ties to Fitchburg High or Crocker Field may want to purchase a brick", says Cosenza.
"I believe that every alum will have interest in purchasing a brick, especially those athletes who competed there," he said. "It is a relatively inexpensive way to support a great cause. And most (alumni) have a personal connection with Crocker Field, whether it be through athletics, band, the relays or graduation."
Covered Grandstand Roof Restoration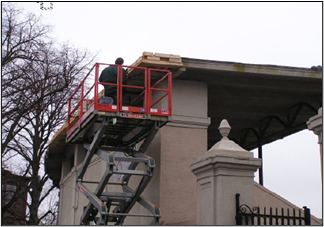 Rollstone Bank & Trust provided a $25,000 gift towards the renovation of the Crocker Field grandstand roof. Lenny Laakso, President of the Crocker Field Restoration Committee at the time, indicated that the roof restoration was one of the priorities of the Restoration Committee as it protects one of the largest structures of the field and the deteriorating overhang on the street side edges would have endangered those walking along the stands the on Circle and Broad Streets. Rollstone Bank & Trust gift, presented by bank president Martin Connors, was key to moving forward on the project.
Generous gifts of $10,000 by Workers' Credit Union, the George R. Wallace Foundation, and I.C. Credit Union have also made this phase possible. Without the philanthropic efforts by these banks, their chief executives and their directors, this national historic treasure, Crocker Field, would be lost.
The project is also supported by a competitive grant of $59,500 from the Massachusetts Historical Commission and the donations made by citizens, alumni, and businesses to the Crocker Field Restoration Fund.
Friday Night Lights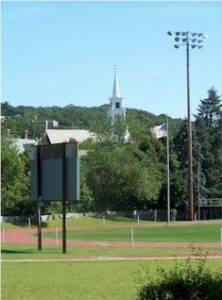 Former Athletic Director, the late Doug Grutchfield, made additional upgrades to Crocker Field. He helped change the shape of the track to qualify for state track meets, and he oversaw the installation of a new rubberized track surface. These efforts, funded by grants, school funds, and donations, ensured athletes were experiencing the new technologies in track surfaces. Along with help from longtime advocate Don Woods, Doug helped raise funds from community and business leaders to install lights for sporting events. Football on Friday nights was born at Crocker Field, and it has become a great draw for high school sports fans.
The Concession Stand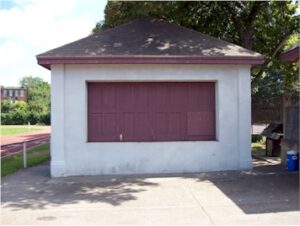 Using donated monies and materials, the Pop Warner Football organization built a first-class concession stand at Crocker Field. Steve Svolis created the design after hours of researching Olmsted designs, and it was built by Pop Warner volunteers, including Butch Lapointe, John "Yogi" DiPasquale, Kevin Roy, and many others.
In 2015 the concession stand shown burned down completely and the new Concession Stand, re-designed by Svolis, was finally finished in 2019 paid for with insurance and upgraded with CFRC's PayPal Fundraiser which raised over $17,000.
The Press Box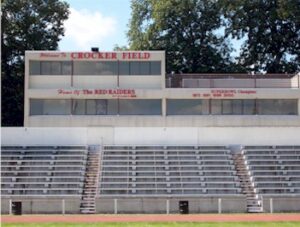 Once again using the Olmsted model, Steve Svolis designed one of the finest press box facilities in high school athletics. With school department funds and donated materials and money, a crew of volunteers tore down the old press box and built a new one to reflect the style and history of Crocker Field. Lenny Laakso designed the steel structure to hold the building, and Russ Coakley worked for weeks to help build this very unique and large press box. Russ and his employees were instrumental in creating this gem. Fran Capone not only donated the interior carpeting, walls, ceiling, paint, and the lettering of "Home of the Red Raiders" but also did a large part of the work.
Broad Street Gate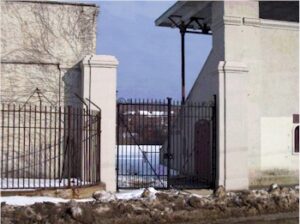 Place your mouse over the photo to view what Broad Street Gate looks like now that it has been restored.
These restorations were done with money obtained through the Community Development Block Grant fund. The Planning Department at Fitchburg City Hall was instrumental in obtaining these funds and overseeing the restoration.